Outwork. Outshine. Outpitch. Only the strongest startups will survive.
Startup Survivor is a four-month innovation program and pitch competition open to McMaster University students and recent alumni. If that isn't exciting enough, we're giving out $75,000 cash throughout the program!
Startup Survivor
Throughout the summer, companies are given six business and technical challenges to complete.
Challenges focus on customer discovery, market validation, rapid prototyping, marketing and sales, go-to-market strategy, and pitching to investors.
For each challenge, educational workshops with subject matter experts will take place so participants can learn about the topic.
One-on-one mentorship is offered bi-weekly to provide support to teams as they tackle challenges.
At the end of each challenge, a panel of external judges reviews deliverables and provides competitors with feedback for improvement and a challenge score.
All teams receive $750 per challenge with The Forge giving out $45,000 throughout the Summer.
Companies are encouraged to work out of The Forge, located at McMaster Innovation Park. Our prototyping facility and makerspace technician are available on-site to support companies with hardware components.
Participants are invited to weekly informal meetups to share key learnings, ask questions, and connect with peers.
The last challenge has the teams pitching to a Venture Capital firm who may choose to invest an additional $25,000. The teams are paired with a pitch coach to ensure they are well-prepared and ready to give a professional presentation.
The summer ends with a graduation ceremony celebrating all the teams' startup achievements and business milestones.
Application Process
Submit one (super short!) online eligibility form.
All eligible applicants will be required to attend a workshop to prepare you to embark on your first challenge and learn valuable entrepreneurship skills. Missed the workshops? No problem! Let us know in your eligibility form and we'll send you a virtual workshop link. More details on this will be found in the eligibility form.
Applicants will work on the first challenge submission until the application deadline, March 31.
During the first two weeks of April, we conduct virtual interviews with the top applicants.
Top 10 teams will be invited to join the program from May to August 2023.
Eligibility
At least 1 founding team member must be a McMaster University student or recent alumni (graduated on or after Spring 2022)
Students may be enrolled in any faculty, program, and level (undergraduate and graduate)
Teams may be comprised of domestic students, international students, or a combination.
Business can be from any industry sector (software, hardware, medical device, clean technology, consumer product, social innovation, etc.)
Check out all the excitement we got up to last year!
Startup Survivor Pitch Competition
At the end of August, all competitors' scores are tallied, and the top 5 companies are invited to pitch at our annual Startup Survivor Pitch Competition where we're giving away the remaining $30,000 in cash prizes!
The Pitch Competition includes our five remaining startups pitching to a panel of esteemed judges and a live audience.
The one-night event is the flagship of McMaster's Entrepreneurship Week, taking place November 13-17, 2023.
The event is open to the public and a great opportunity for networking with other students, faculty, startup founders, researchers, and special guests.
The lucky grand prize recipient will walk away with $15,000 to go towards their startup!
Frequently Asked Questions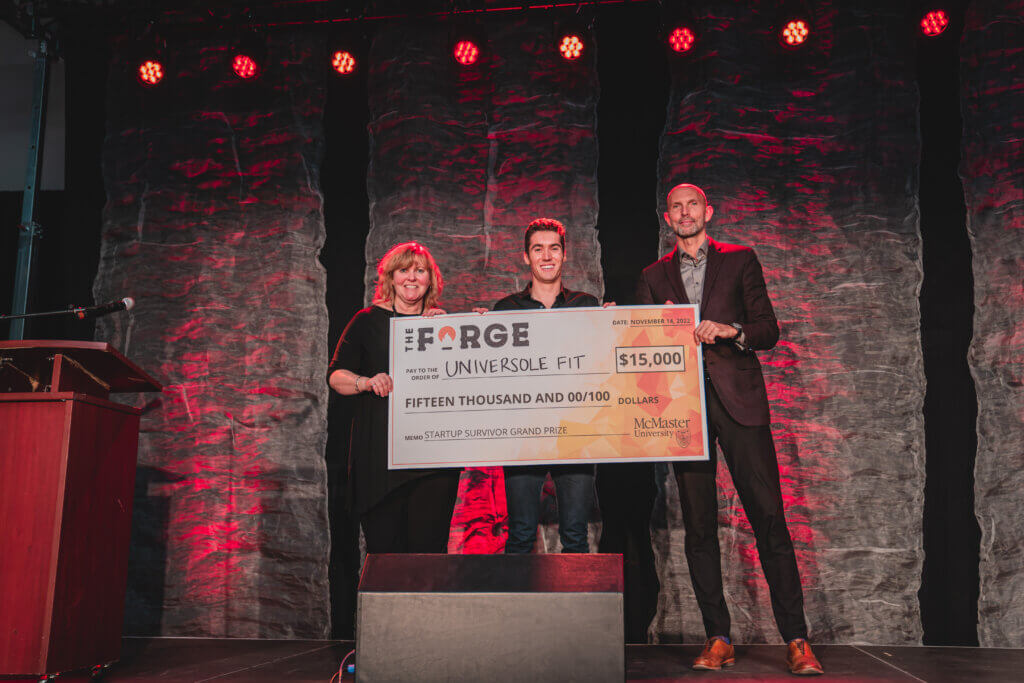 Hear from Previous Participants
Christopher Juman, co-founder of Dahlia
Winners, 2021 Startup Survivor
Our experience with the Forge Startup Survivor program has been incredibly valuable. We entered the competition looking to gain guidance on our first steps in launching our business while also hoping to gain some funds along the way. We never would have imagined how many skills we would develop all the while having the opportunity to build connections with valuable mentors and other co-founders who have helped shape our business. Startup Survivor has helped catapult Dahlia forward and we are very grateful for this experience. We encourage new founders to apply if they want to gain guidance and direction on how bringing their startup to life!
Josh McGillivray, co-founder of Universole Fit
Winner, 2022 Startup Survivor
The Forge Startup Survivor program was pivotal not only for Universole Fit but also in my transition from researcher to entrepreneur. We entered the competition with the goal of trying to improve the wide-spread problem of finding the right size shoe, not knowing in the span of a few months they could help turn an idea into a scalable business. The workshops on business development, access to skilled professionals for mentoring, and The Forge's extensive network provide all the tools for a determined entrepreneur to turn their startup dream into a reality. We would recommend the competition to anyone trying their first startup venture as the mentorship paired with the funding opportunity means regardless of the competition outcome it will be invaluable to your business development. Without the constant guidance and support of The Forge, Universole Fit would not be where we are today. Continuing to work with The Forge as an incubator client, even after the competition, continues to prove to be the best decision we could have made.
Parisa Agahi, founder of Tression
Finalist, 2022 Startup Survivor
Tression was shaped as a startup through working with The Forge. The mentorship and support offered by this community was paramount for Tression's growth from an early-stage startup with little validation, to an incorporated company with a large network of advisors and planned go-to-market strategies. I would highly recommend the Startup Survivor and Incubator programs to anyone with a business idea and a passion to solve a real world problem!
Areeb Khawaja, co-founder of AccessResolve
Runner up, 2022 Startup Survivor
As an entrepreneur participating in the Startup Survivor 2022 pitch competition, I can confidently say that The Forge provided my team with the right mentorship, support and guidance needed to succeed.
When we arrived at The Forge, we were immediately impressed with the level of support and resources they provided. From the moment we stepped in, we were welcomed with a warm and friendly atmosphere. They provided us with a space to work and collaborate, and most importantly, the right mentorship and advice to identify pain points, validate our solution, position ourselves in the market and grow our startup.
The Forge staff were incredibly knowledgeable and always willing to lend a helping hand. They provided us with invaluable advice and guidance during the pitch competition, which gave us the confidence and tools to succeed in effectively communicating our value proposition and story to the pitch judges and the wider community. They also provided us with a platform to practice and perfect our pitch, and gave us the opportunity to get feedback from experienced entrepreneurs.
The Forge staff went above and beyond to ensure our pitch was perfect before the competition. They provided us with a detailed roadmap of how to prepare for the competition, and even connected us with experienced mentors who could provide us with personalized advice and guidance for our startup.
I would highly recommend The Forge to all entrepreneurs!