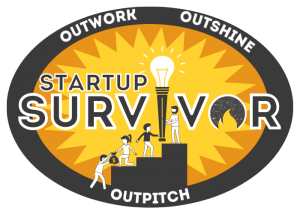 Outwork. Outshine. Outpitch. Only the strongest startups will survive.
Startup Survivor is a 4-month innovation program culminating with a pitch competition in the Fall, open to McMaster students and recent alumni. Throughout the summer, The Forge will be giving out up to $75,000 cash.
Ten finalists have set off on a journey to launch their business ideas to great lengths.
Teams will complete 6 challenges with help from mentors and workshops along the way. With each completed challenge, finalists are granted a portion of their funding and are awarded points from The Tribal Council (our valued mentors).
Finally, the top 5 teams will compete in "The Startup Survivor Pitch Competition" for the chance to win additional prize money!
Can you outlast the competition?
Leaderboard
Our fierce competitors have wrapped up their first two challenges! The results are in, and it is shaping up to be a tight race. Stay tuned each month for ranking updates and follow the results hot off the press on our social media. Anything can happen in Startup Survivor!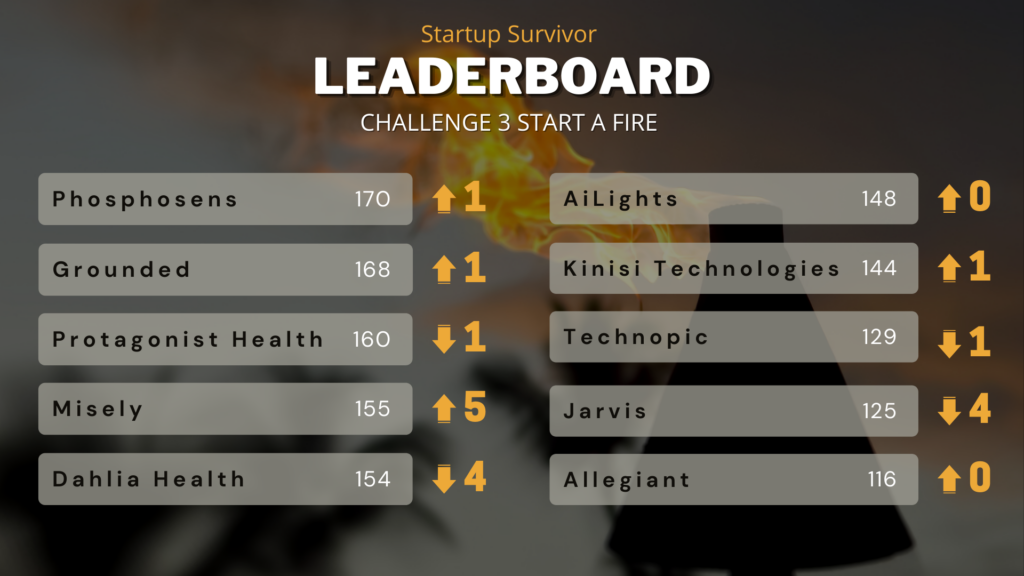 Meet the Competitors
AiLights
AiLights is a software startup that wants to help streamers save time and increase the amount of content they create and share. It is our belief that our solution is suited to streamers that want to grow their following by maximizing content production and exposure on social media.
Allegiant
Allegiant is a team of university students that have gotten together to learn a lot and make the world a little better in doing so. We are currently building our app to use voice recognition technology to revolutionize how we view safety and discretely report incidents. As we continue to grow, we will continue to have a holistic view on safety. We also create a community of support for people who look to be safer and create a safer world for those around them.
Dahlia Health
Dahlia Health is a menstrual health startup committed to helping women expand their options in menstrual health by reducing barriers to entry to menstrual cups.
Grounded
Grounded aims to bridge the gap between everyday consumers and sustainable brands through an online marketplace. Our goal is to address the main pain points of the consumer: price, time, and fear greenwashing. This is done by vetting the brands on our site to ensure that they are sustainable and providing them at a lower price point to make it accessible for consumers. This will allow brands to access a new demographic of shoppers that otherwise would not have purchased from them and increase their sales. The goal is to provide value for all parties involved such as the consumers, the brands and Grounded as well!
Kinisi Technologies
Kinisi Technologies is a posture tracking wearable device that provides posture-performance analytics for athletes, specifically rowers at this stage. As Kinisi Technologies, we aim to help rowers maintain proper posture during their training and boost their power using our technology. The athlete will use a wearable device to capture and store their posture called Cox'On. The Kinisi Technologies application will be used to set up their workout, and review analytics post training.
KitchShare
Consumers have access to a large variety of options through channels such as UberEATS, Door Dash and Skip the Dishes. We learned this leads to increased competition within the restaurant industry, which leaves reputable restaurants with extra capacity. On the other hand, some small brands have thrived from these digital channels and have managed to increase their demand to a point where they operate at full capacity. These growing food brands are looking into expansion, but the high associated costs are inhibiting factors. KitchShare is an application that brings these parties together. Restaurants with additional capacity cook and facilitate orders for the expanding brand in exchange for a percentage of sales. Growing restaurants can expand operations more efficiently by tapping into the unused resources from their partner, expanding at a lower cost while providing their partner with an additional revenue stream. KitchShare aims to enable booming brands to go "dark" while supporting restaurants in the local community.
Misely
New mothers find it very challenging to adjust to new lifestyle as parents while also recovering from deliveries at the same time. Misely will make this transition as easy and seamless as possible. Our platform will connect new mothers with interviewed, background-checked and top-rated professionals to make their postpartum period the most joyous and enjoyable time of their lives. Our services range from basic housework duties (cleaning, cooking, laundry) to professional massage and lactation support.
Phosphosens 
We at Phosphosens believe that better monitoring systems are needed to make safe water available to masses. Efficient water quality monitoring systems will assist to reduce the risks for water and wastewater ecosystem which is already under a huge stress due to increasing population and water usage. We are a company developing water quality monitoring systems in partnership with OEMs to bring these solutions to wastewater treatment plants. We are currently focusing on developing a phosphorus monitoring system.
Protagonist Health
Protagonist Health is a company led by women, for women who are at risk of developing chronic conditions. We are building a digital health platform that takes a research- and datadriven approach to provide personalized behaviour feedback to women with the aim of helping them implement lifestyle changes to decrease their risk of diabetes and cardiovascular disease. Our ultimate goal at Protagonist Health is to empower women to take ownership of their health journey by helping them be the heroes of their own health.
Technopic
Technopic is an upcoming application that is designed for individuals who need to access an alternative communication form. The key components include the use of common starter sentences (i.e. can I have, I see, give me, etc.) which are then connected to an image of either a person, colour, or activity. This will then form a sentence such as "Can I have *picture of an apple*" which is then outputted using an audio that matches their age and gender. The goal is to enable a child to communicate as fast as possible while maintaining effectiveness of the picture communication evidence-based design.