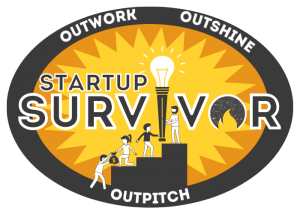 Outwork. Outshine. Outpitch. Only the strongest startups will survive.
Startup Survivor is a 4-month innovation program culminating with a pitch competition in October, open to McMaster students and recent alumni. Throughout the summer, The Forge will be giving out up to $75,000 cash.
Beginning in May, 10 finalists will set off on a journey to launch their business ideas to great lengths.
Teams will complete 6 challenges with help from mentors and workshops along the way. With each completed challenge, finalists are granted a portion of their funding and are awarded points from The Tribal Council (our valued mentors).
In a cutthroat elimination round, only the top teams will outlast their competition and participate in the Startup Survivor Pitch Competition for the chance to win additional prize money. 
Can you outlast the competition?
– Applications have closed on March 31, 2022. –
Applicant Guide
Eligibility Criteria
To apply, your startup must meet the criteria below:
1. Your startup must have at least one founding member who is a currently enrolled McMaster student or alumni (graduated on or after Spring 2021). This includes any of the following: part-time/full-time undergraduate, graduate, or Ph.D. students.
AND
2. The startup must be composed of at least 50% McMaster students or alumni (any year) who are founding members of the project. A founding member is anyone who has been a part of the "startup" from idea conception and would be considered a shareholder in a company, should they incorporate in the future.
If you do not meet the eligibility requirements listed above, unfortunately, you are not eligible to apply. We encourage you to consider other programs offered at The Forge. We encourage you to consider other programs offered at The Forge. Click here to learn more.
Challenges
Startup Survivor consists of six (6) challenges that each startup will complete.
Challenge 1 – Explore the Island – Customer Discovery and Validation
Innovation doesn't start with an app idea, a widget, a service blueprint, or a prototype. Innovation starts with a problem.
In Challenge #1, we want you as founders to forget about your solution. Most of the time, founders come to us with solutions but often change these solutions after they do proper research. We want you to keep an open mind, avoid jumping to a solution and undertake research to help you understand the problem you are trying to solve on an extraordinarily deep level.
Challenge 2 – Hunt and Gather – Ideation, Business Models and the Solution Interview
Having validated your problem, it's time to start ideating or adapting your solution.
Validate the Business Model Canvas and develop either a storyboard or prototype product pamphlet and get feedback from your target market; identify areas for improvement; rinse and repeat.
Challenge 3 – Start a Fire – Rapid Prototyping
The idea with rapid prototyping is not to make something that can be sold right away. The idea is that we make sure we are building the core elements of what an end user wants and will find
useful to solving their problem.
For this challenge, you will be asked to create something either digitally, experientially, physically, etc. There's only one limitation on this challenge – the amount of time you can put into your prototypes. Prototyping can take on any form – your main goals are to test, learn, and continue to validate your riskiest assumptions.
Challenge 4 – Message in a Bottle – Socialize It
Challenge 4 is a bit different than previous challenges. The idea here is to encapsulate your understanding of your end user into a brand that speaks to them by building a landing page and a mini content marketing strategy. The goal here is to start garnering a larger audience outside of the bubble you've been working with in the past four challenges.
Challenge 5 – Form an Alliance – Go-to-Market Strategy
Go-to-market strategy is a plan that will introduce and inevitably grow the adoption of your product in the market. In this challenge you will be heavily involved with your "beachhead market." Your beachhead market is a group of end-users that have the problem you're trying to solve, very potently. They are a group that when describing your problem, will finish your sentences. They are in such need of a solution that they will adopt your product even though it is in its infancy and still quite flawed.
In this challenge you will learn about go-to-market strategy and make an attempt to understand and/or gain some early traction for your product/service.
Challenge 6 – Face Tribal Council – The Pitch Deck
The pitch is on the horizon. You found a potent problem to solve, ideated and tested a prototype, did some marketing and strategized on a rollout plan. You've built the content you need for this final challenge: pulling together your Value Story, and packaging it as an Investor Pitch.
Apply here.