September 12, 2022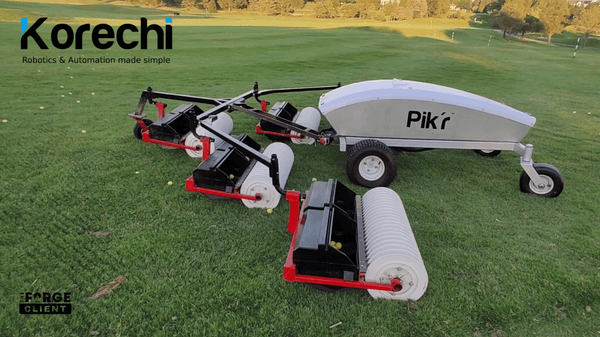 Being a range picker is not an easy job. Even when the job transitioned from picking up golf balls by hand, to using range ball pickers attached to a caged cart, the job still has numerous challenges. At first sight of seeing the range cart in action, golfers have an inexplicable primal urge to hit the slow-moving target with their golf balls. If hearing golf balls bouncing off the cart is not bad enough, the drivers of these carts must maneuver the cart with speed and accuracy to get the job done faster in the scorching heat.
What if a range picker's job could be automated? What if it could be done remotely, so they can work within an airconditioned office?
Korechi Innovations Inc. (Korechi), a pioneer in the agricultural robotics space, applied their knowledge from their RoamIO line of farming robots to address a need for efficiency, safety, and sustainability in ball collection within the golf industry.
"After building the RoamIO line of autonomous agricultural robots to reduce manual labour for farmers, our team explored how these advanced technological capabilities could be utilized in other industries," explained Sougata Pahari, CEO and founder of Korechi.
Shortly after the first RoamIO was launched, Korechi started designing Pik'r™, an autonomous robotic range ball picker. Korechi describes Pik'r™ as the world's first robot that automates all the existing three and five gang ball pickers that currently on the market, by seamlessly integrating with them, without any changes to the facility's infrastructure.
Targeted at large and busy driving ranges, Pik'r™ can pick up to 4,000 balls per round and approximately 52,000 balls within a 13-hour period. The autonomous range ball picker is all-electric, running on long-lasting lithium batteries that can run up to ten continuous hours on a single charge.
Pik'r™ makes a range picker's job less tedious and more comfortable. Deploying the robot requires minimal training and can be controlled via a joystick, a user-friendly app, or it can work autonomously. Operators are provided with a rugged tablet computer with RoamIO-MLT software to remotely control Pik'r™. Using the integrated software package, operators can view and control the live navigation of a single Pik'r™ or multiple units via the internet.
Pik'r™ saves up to 80% on labour costs for driving ranges, reduces the number of tedious tasks for range pickers, improves worker safety, and encourages better working conditions. Equipped with artificial intelligence Pik'r™ can avoid obstacles in its way and as well as follow voice queries. One of its greatest benefits is the in-app calendar that enables the operator to schedule tasks ahead of time.
On top of its many benefits, the autonomous robot is a sustainable solution that utilizes a driving range's existing gang pickers, avoiding the need to discard or recycle the equipment. Designed and built based on the technology of Korechi's farming equipment, the Pik'r™ has a minimal impact on soil, and natural and artificial turf.
"For busy driving ranges that are already using driver-operated gang pickers, having Pik'r™ has considerable advantages. Not only does it vastly improve labour efficiency, but also shows the facility's commitment to reducing their GHG emissions, which adds to their prestige," explained Pahari. "Pik'r™ can be easily integrated with their current equipment, free up hard-to-find labour and still give them the extensive list of advantages."
Pik'r™ serves as a great example of how automation can help solve an employer's labour shortage while creating more jobs that provide a safe and enjoyable atmosphere for the employees.
Watch Pik'r in action: