March 8, 2022
To celebrate this year's International Women's Day, we want to highlight some of the exciting technologies created by our female-led startups. These startups are making waves in Ontario's innovation ecosystem and disrupting industries with their cutting-edge technology.
In addition, we would also like to highlight the remarkable women on The Forge team that have provided guidance and support to entrepreneurs in their journey to success and growth.
Amanda Nguyen, Co-Founder of Boardball
Boardball is a new, dynamic, and competitive volleyball-based game. Instead of a net, you use a board that's durable, compact and easy to set up. The game is played two against two, and you can move anywhere around the board without losing that bump, set, spike that you love. No more searching for courts or setting up bulky nets, with Boardball you can take volleyball wherever you go.
Be a visionary, but also a doer. As an aspiring entrepreneur, I bet you've had many ideas that have crossed your mind. The reality is that an idea is only so good upon its execution. It takes a visionary thinker to want to pursue a business on their own, but it also takes a doer to actually get going with this.

– Amanda Nguyen, Co-Founder of Boardball.
AIMA Laboratories
Dr. Lauren Foster, CEO & President
Jocelyn Wessels, Co-Founder and Chief Scientific Officer
Pelvic pain affects millions of women in North America. The duration from the onset of symptoms to diagnosis of endometriosis can take between 5 to12 years. AIMA Laboratories Inc. is empowering women to take control of their health through the development of in-home diagnostic tools for women's health issues.
AIMA Laboratories has identified clinical markers in the blood that enable the diagnosis of endometriosis without the need for surgery. AIMA Laboratories' at home tests can reduce diagnosis time, decrease time to access safe and efficacious treatment, and provide affected women with the tools needed to actively monitor their endometriosis.
Eveline Pasman, Chief Medical Officer
Tenomix's mission is to develop novel technologies that target inefficiencies in the pathology workflow, optimize cancer care and reduce healthcare costs. Tenomix's dedicated team of engineers, medical doctors, and clinical scientists is currently working on the company's flagship device, which autonomously searches for lymph nodes in resected cancer tissues and marks their locations for efficient extraction. This bench-top device replaces the existing tedious and unreliable manual lymph node finding process and greatly improves the speed and reliability of the cancer staging process. This enables clinicians to make better-informed treatment decisions, resulting in fewer patient complications and fatalities and ensures hospitals continuously meet their quality metrics.
To be a female founder is to be a role model for girls and women in STEM, especially having taken a less traditional path from graduating medical school and finishing a PhD in Kinesiology to now running a small med-tech start up. I am very grateful for the experience and skillsets I gained throughout med school and my PhD, but realized after a while that individual patient care and an academic career were not the direction I wanted to go in. Luckily, I found 'my place' in the world of medical innovation and entrepreneurship.

– Eveline Pasman, Chief Medical Officer at Tenomix.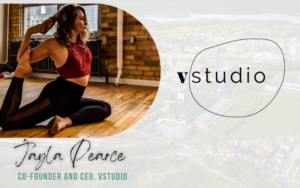 Vstudio is a simple all-in-one solution to teaching online, helping people stay active and healthy. 
The video conferencing platform is designed to streamline the online teaching process, taking the tech out of teaching so you can focus on growing your business. Vstudio was founded with fitness and wellness for everyone in mind. Vstudio prioritizes industry-leading student and teacher engagement, offering a vibrant and open community space to replace cold and quiet video conferencing rooms, set on highly reliable video conferencing for virtual classes, and much more
Surround yourself with people who see your talents, and if there's any bias, they aren't your people; your investors, your friends, your colleagues, your clients. I'm grateful to have worked with amazing people who support the mission I'm doing. 

I'm noticing how being female-led business is opening up some doors than closing them, with more support and opportunities to prop woman up. Such as female owned only grants, investments, accelerators, media, etc. Its exciting to see and can't wait when this isn't needed. 

– Jayla Pearce, CEO of vstudio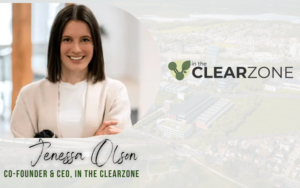 Jenessa Olson, CEO & Co-Founder
In The ClearZone has developed cost-effective and sustainable air sanitizing devices for commercial spaces like schools and hotels, reducing airborne pathogens in real time to make indoor spaces healthier. Their patented HydroClear and ClearSience Technologies are proven to deactivate unwanted VOCs, bacteria, mould, viruses, odours, allergens and more. These innovative technologies use active and passive sanitization and are unlike any other air sanitizing product on the market.
A sanitizing venture may not seem as glamorous as a fashion-sharing company, but it's awesome to hear stories from clients about how we're helping their business to not suffer the same setback that ours did. In the ClearZone is making a difference for people in a tangible way, and that's hugely rewarding.

– Jenessa Olson, CEO & Co-Founder of ClearZone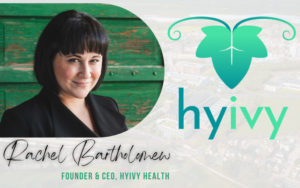 Hyivy Health creates an intelligent and holistic pelvic rehabilitation device for the 1 in 3 women worldwide who will experience a pelvic health complication in their lifetime. Our device provides the first quantifiable data set on the pelvic floor and 3 different therapies from multiple sensors and mechanical functions to help keep track of progress, adapt treatment plans and provide more effective, comfortable rehab experiences.
I started this company because women deserve better.

– Rachel Bartholomew, Founder of Hyivy Health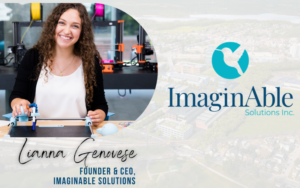 Imaginable Solutions has developed Guided Hands™, an assistive device designed to enable people living with limited hand mobility to write, paint, draw and use a touch-screen device. ImaginAble helps people living with Cerebral Palsy, Huntington's Disease, arthritis and even those recovering from spinal cord injuries and strokes among others. Guided Hands™ improves quality of life by enabling communication, development of cognitive skills, promoting independence and allowing the user to do what they love!
As a proud woman in engineering and entrepreneurship, today is a very special day to inspire, promote and recognize the importance of women and girls especially in male led industries. To me, this international day is a way to remind women that passion, perseverance, and a strong community is enough to remove barriers and make our own mark in the world.

– Lianna Genovese, Founder of ImaginAble Solutions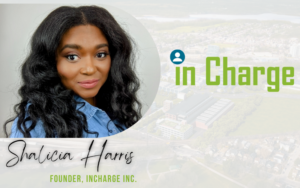 In Charge has developed an onboarding and assessment tool that makes talking about money less overwhelming and more solutions focused for people. Our tool helps financial experts get to solutions faster while building prospects and clients financial literacy with the 5 Key Pillars of Personal Finances.
I'm motivated by knowing In Charge will stop many people and especially women from having too many financial regrets. Something I hear often is, 'I wish I knew sooner'. This statement resonates with me. I still wish I knew the financial opportunities I had too. Now, I channel that into helping others unlock their opportunities sooner with an investment of only 5 minutes. When people know more, they do more. I want people to do more with their money.

– Shalicia Harris, Founder of In Charge Inc.
Thank you to the remarkable women on The Forge team!