July 15, 2022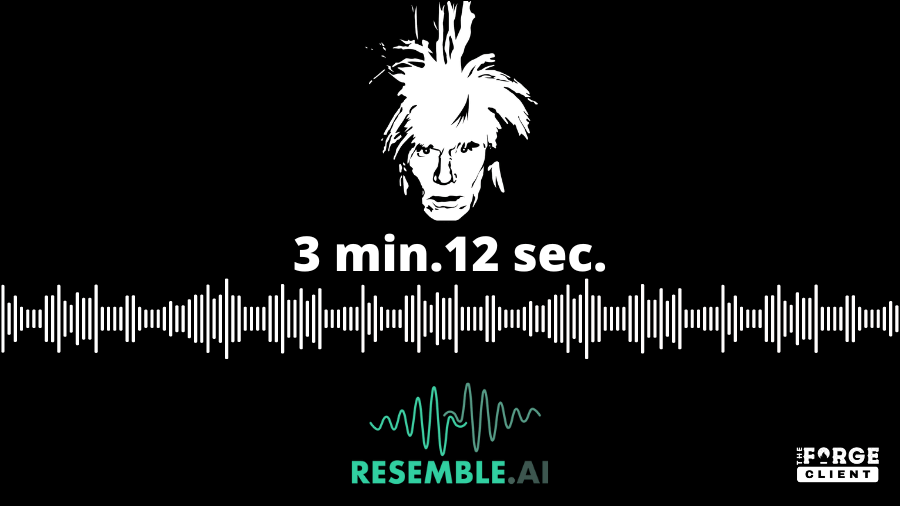 Resemble AI, a generative voice technology startup and Forge client, has brought Andy Warhol's voice back to life in the Netflix docuseries "The Andy Warhol Diaries."
Using only three minutes and 12 seconds of Warhol's original voice recordings from the 1970s and 80s, Resemble AI produced Warhol's synthetic voice narration to recite his diaries in his own words creating an immersive six-part documentary on the artist's life.
The Forge client adjusted Warhol's AI voice for emotion and pitch and added human-like imperfections using reference audio clips of another speaker.
Listen to the comparison between Andy Warhol's AI Voice with a voice-over artist's performance:
Resemble AI's platform can create entire movies, TV shows, and video games with AI-generated voices, allowing for increased creative freedom and new forms of expression, while adhering to consent and transparency in all its projects. According to an interview with Christian Holub of Entertainment Weekly, the Director of the docuseries Andrew Rossi, wanted Warhol's voice to function like a Warholian portrait and obtained approval from the Andy Warhol Foundation before cloning his voice.
On July 12, 2022, the docuseries scored four Emmy Award nominations for outstanding documentary or nonfiction series, writing for a nonfiction program, directing for a nonfiction program and cinematography for a nonfiction program.
"Generative audio is one of the most incredible and underutilized areas of AI," said Zohaib Ahmed, Resemble AI founder and CEO. "It can change the way that we create and interact with content and it opens up new possibilities for entertainment and storytelling."
View how voice cloning works: