July 19, 2022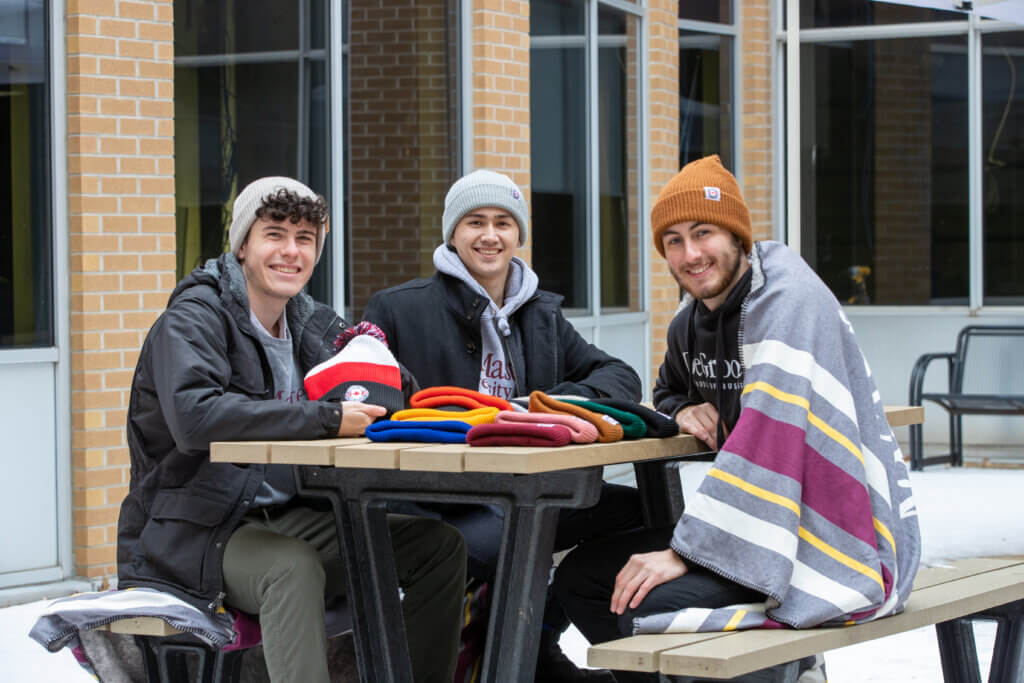 We hear all the time about the big names. The Microsoft's, the Apples, the Teslas. We hear these fascinating stories of working out of a garage or basement and sacrificing everything to make ends meet. But what about all the fascinating stories we don't hear? Stories about overcoming failure, managing personal and work life, and stories of paving unique paths.
We sat down with the three co-founders of Toques from the Heart to learn more about their journey from classmates, to business partners, to lifelong friends… and how it all began in a student house basement.
Matt Milne and Casey Rogan, two of the three co-founders of Toques from the Heart, met in their first year of McMaster University's Bachelor of Commerce undergraduate program. The two, who quickly became acquainted, soon realized that they shared a similar spirit and passion; entrepreneurship. Despite their different upbringings and cities, Milne and Rogan have each prioritized paving their own path to success. It didn't take long to realize this massive similarity.
He had that same entrepreneurial spirit that I did.

Matthew Milne, Co-Founder
Throughout the next 8-months, the two would often bounce ideas off one another, with nothing ever coming to fruition. It wasn't until the summer following their first year of university that the two made it official. They decided it was time to get serious. Milne, born and raised in Hamilton, Ontario, showed up early one morning on the doorstep of Mississauga native Rogan's student home. The two settled down in the basement with some coffee and took out a little whiteboard. They spent the next few hours jotting down every idea they had ever had and any idea they could come up with. The two were passionate about starting something, and now was the time, but just what was it?
As Milne and Rogan began firing off their ideas, one common thing became clear. Every idea they had focused on one theme: giving back. The most important thing was to make an impact in their community. From this, Milne and Rogan looked to their whiteboard of ideas and considered one final idea that they hadn't written down yet.
When Matt Milne was younger, (and full of untapped entrepreneurial spirit), he had the idea of turning his old hockey socks into winter hats that could be resold. His mother, who had been sewing for 30+ years ensured him that it was indeed very possible. In fact, Milne even used this idea as a business project in his final year of high school. As Matt wrote that idea down on the whiteboard, a new pathway opened.
The two quickly began collecting hockey socks in their community and sewing them into toques with the help of their first unofficial employee, Milne's mother. They made a promise: for every hat sold, they would donate one hat to a charity. At first, the hats were all different shapes and sizes, ranging in different colour schemes in what they called "a big hodgepodge of stuff." The team then took to social media using Rogan's marketing skills and set up a booth at the Master World Congress to begin their first set of sales.
It was then that the two brought on Matt Carter, their third and final co-founder to handle finance and operations. As another McMaster DeGroote school of Business student, he was perfect for the role. Carter helped the team smooth things out, and Milne claimed the Burlington member was responsible for getting the company to the next step. It was at this point that the trio began getting early recognition for their donations to the community, even if their hats were not in tip-top shape. They talked to a lot of friends and family, sponsored events, and partook in a lot of campus clubs to begin their journey. Afraid to say it aloud, the business was running smoothly.
However, in the early days, there were times when the co-founders felt they were skating on thin ice. Debates and frustrations fueled by passion among the team were expected, and disagreements came along with it. As friends, the boys struggled to find ways to turn down ideas, and it was even harder to tell each other "No."
It became obvious that when things were going well, the team was excelling, but on the contrary, when things weren't going well, it was awkward. The constant back and forth of meetings or disagreements to hanging out with each other off the clock became a bit uneasy. Putting their egos to the side, the friends realize they owed it to the community and to themselves to make it work in the long run.
It became a big part of their company culture to deal with problems in a healthy way. Over time, the co-founders have learned to communicate and find different ways to deal with issues that don't negatively impact the company. The team made sure to not hold onto any grudges, and to separate work from their friendship. Over the years, the team bond has grown stronger and stronger, and that has been followed by the success of their company: Toques from the Heart.
So, what's next for the McMaster founders?
During the off-season, the company is strategizing ways to dive into new markets. Expanding their line to include new winter accessories like mittens and scarves while continuing to give back to the community is high on their to-do list. At the end of the day, their mission remains unchanged- they're here to give back. Through interviews and feedback from non-profits, they have concluded that there is so much they can do help those in need.
35,000 Canadians experience homelessness on any given night. Toques from the Heart strives to provide all of them with warm and durable toques during the cold winter months with their "buy a toque, give a toque" motto. For every item purchased, a hat is donated to a Canadian experiencing homelessness so we can all stay warm together.
I think we can all agree there is a whole lot of heart here.
Be sure to check out Toques from the Heart and order your toque today!
If you enjoyed this blog, make sure to stayed tuned! Our next topic: The Prodigy- Paving my way with Lianna Genovese
Subscribe to our mailing list and follow us on social media @forgemcmaster to stay up to date.