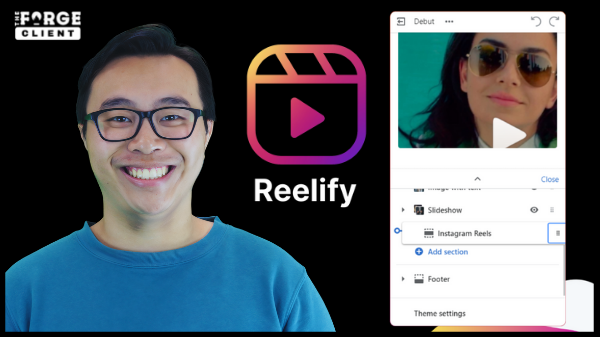 Peter Yang, the founder of Reviewerly, Inc. and client at The Forge, launched Reelify in the third quarter of 2021, an app that lets users effortlessly add Instagram Reels to their Shopify stores. A week after Reelify was launched, it won the Shopify Staff Pick award, allowing it to get featured on the front page of the Shopify App Store for a week. As a result of the award and additional exposure, Reelify experienced exponential growth, obtaining over 100 paying users in just a few days.
Yang is a teen entrepreneur from Hamilton, Ontario and the youngest founder to graduate from The Forge Business Incubator program. Yang's ambition and grit led him to accomplish numerous goals at a young age. At 14, he founded his first startup, Reviewerly, offering an app to help eCommerce store owners capture reviewers at checkout and follow up in Facebook Messenger. At 15, he authored The Art of Writing, an international bestselling book with thousands of sales worldwide. At 16, he accomplished his goal of giving a TEDx Talk, speaking at TEDxMcMasterU 2021 on Why Optimism Matters More Than You Think.
"Without The Forge, I may have not continued with my startup, given how lonely and isolating entrepreneurship can sometimes be," Yang recounted. "Seeing other Forge clients develop innovative solutions to complex problems pushed me to learn how to code, which in turn enabled me to build and launch Reelify. I also achieved my goal of giving a TEDx Talk thanks to the business incubator, as I only found out about the opportunity through their internal communication channel clients are invited to."
Yang will graduate from high school in June and plans to study software engineering or computer science at a Canadian university. "I hope to connect with like-minded individuals with whom I can collaborate on a future startup venture. Hopefully, I can invite them down to The Forge one day!" Yang explained excitedly.
Visit Reviewerly to learn more about the Reelify app.