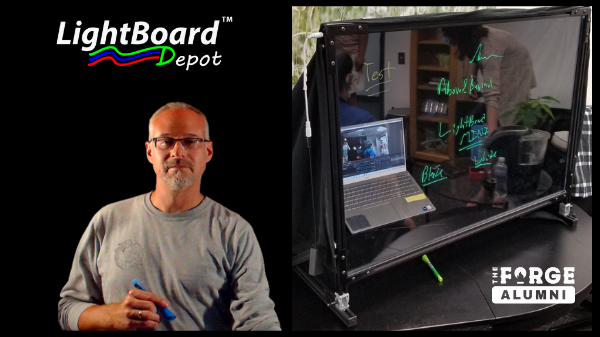 On August 3, 2021, LightBoard Depot Inc., a forward-thinking startup that devised a transparent screen similar to a see-through whiteboard, unveiled the new "Mini" lightboard, The LightBoard FLEX. The FLEX provides added convenience and flexibility to its users, measuring 24"x36", it can easily fit on top of a desk or be transported on a business trip. LightBoard Depot's products are being used in numerous industries and have been revolutionizing remote learning and the way presenters interact with the material presented to viewers, resulting in a more engaging learning experience.
The Hamilton-based startup was co-founded by Chris Cavalieri, Adrian Kitai and Mike Justason. The serial entrepreneurs, Cavalieri and Kitai, previously founded Advanced Video Technology Solutions Ltd. (AVT Solutions), an alumnus of The Forge providing Obsidian projection screens and custom display solutions for its clients including, most recently, a 100-megapixel seamless wall-size display.
Watch a quick overview of LightBoard Depot:
Read "The LightBoard Depot Inc. launches the Mini," published by SNN News, on August 3, 2021.