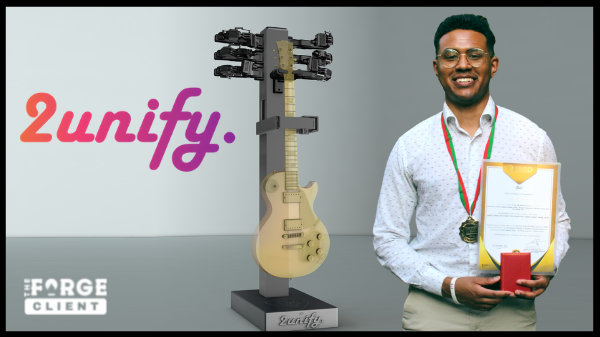 2unify, The Forge client, recently won a gold medal at International Innovation Week IWA 2020 competition, headquartered in Morocco, held virtually due to the COVID-19 pandemic. The competition gathers the brightest inventors from around the world from over 30 countries and selects the top global inventions in the category of innovation and advanced technologies. 2unify was presented with the gold medal for inventing and building the world's first hands-free robotic guitar tuning stand. The medal was presented during the Online Edition of the Innovation Week IWA 2020 organized by OFEED under the Patronage of the International Federation of Inventors' Associations (IFIA) and main partners: Oxford Business Group – The Patent Magazine – CGEM (Morocco).
"It is an honour to represent Canada and showcase our invention on a global stage, said Michael Jobity, an Engineering Physics & Management undergraduate student at McMaster University, a musician and the co-founder of 2unify. "We would like to thank all of our mentors and advisors who have supported us along our journey."
Earlier this year, 2unify opened up pre-orders for its hands-free automated hand tuner and has won numerous pitch competitions worldwide. In 2020, the startup had the opportunity to audition and pitch to the "Dragons" for CBC's hit television show, Dragon's Den.
Learn more about 2unify and their hands-free automated guitar tuner.