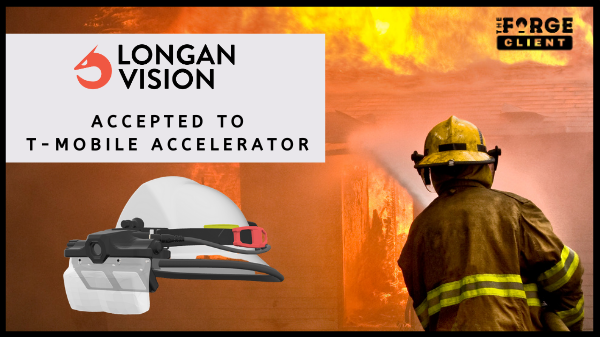 On April 5, Longan Vision announced that they have been accepted to the 2021 T-Mobile Accelerator Spring Immersive Technology Program which aims to fuel 5G innovation. During the three-month program, Longan Vision and seven other startups selected into the program will work directly with technologists and business leaders at T-Mobile to work on developing forward-thinking innovations in 5G technology from AR wearables to holographic communications, 3D data storytelling, volumetric video streaming, immersive virtual learning and more.
The Forge client Longan Vision is focused on providing support and solutions to the First Responder industry. Their flagship product the Fusion Vision System [FVS], is an Augmented Reality Smart Visor System combining thermal imaging with augmented reality that is attached to a firefighter's helmet, improving their vision in extreme environments. They have also developed "The Gatekeeper" in response to the COVID-19 pandemic. The device uses unique thermal imaging technology that provides an operator the ability to monitor people's relative skin temperature and detect whether a person has an elevated skin temperature while maintaining distance from the person being screened.
"We are honoured to be selected to the T-Mobile Accelerator program, said Enzo Jia, co-founder of Longan Vision. "We see this program as a way to have a major impact on North America as a whole. 5G technology is the future, and we want to help T-Mobile ensure 5G is ready to be adopted by First Responders around the world. We are proud to be working with them to advance this technology."
Read the full press release published by T-Mobile, titled "T‑Mobile Accelerator Kicks Off Spring Program Fueling 5G Innovation in Immersive AR/VR Technologies and More" published on April 5, 2021.