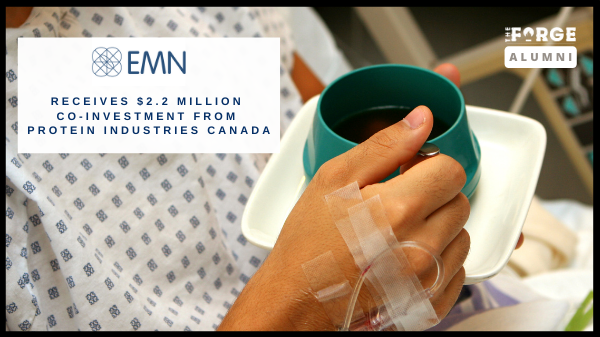 On February 9, Protein Industries Canada (PIC) announced a $2.2 million co-investment into a project led by Enhanced Medical Nutrition (EMN) and Infinit Nutrition Canada (INC) to develop novel plant-based protein blends to meet the protein needs of hospitalized and outpatient individuals, and athletic consumers. EMN, The Forge alumnus, is a Canadian life-sciences company that builds clinical nutrition products to help patients prepare better and recover faster from surgery and critical illness. INC is a leader in the production and marketing of ultra-quality sports nutrition designed to support both endurance athletes and health-conscious individuals.
The project is aimed at meeting the rising demand for high-quality plant-based protein options by consumers where sufficient protein intakes pose a challenge, particularly individuals recovering from surgery, the critically ill and athletes building muscle mass.
EMN and INC will produce ready-to-mix and modular protein powders that are allergen-free, clean label and ethically sourced and manufactured from Canadian raw materials. The modular powders will be consumed in healthcare settings, by mixing them into beverages or soft foods, increasing the protein content of the meal, or flushed through feeding tubes to deliver a dose of protein on top of the prescribed tube feed. The ready-to-mix powders will also be designed for hospital use, for outpatient settings, and at-home use.
EMN and INC are also working with Dr. Stuart Phillips, an internationally recognized dietary, protein, exercise and nutrition scientist, on the project. Phillips will conduct research to examine the plant-protein blend at the Protein Metabolism Research Lab (PMRL) at McMaster University.
"There is a significant impact that will be realized in the clinical nutrition market as a result of this project," says Eric Zimmerman, Co-founder and CEO at EMN. "This market is one that requires nutrition solutions based on scientific evidence. With the help of McMaster and PIC, we can create science-driven plant-protein powders that will meet the growing demand for these products in the clinical setting."
Read the original press release published on February 9, 2021, on Protein Industries Canada website.
Additional articles where Zentrela has been featured recently:
Learn more about EMN on their website.