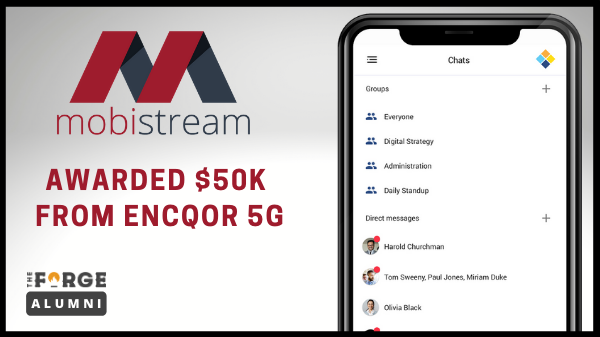 On February 1, 2021, MobiStream announced that they were awarded $50K from the ENCQOR  5G Demonstration Program developing Unio, their new ultra-secure communications platform in partnership with BlackBerry.  The program is delivered by The Ontario Centres of Excellence (OCE), soon to be named Ontario Centre of Innovation, in partnership with Innovation ENCQOR on behalf of the Ontario Ministry of Economic Development, Job Creation and Trade and Innovation, Science and Economic Development Canada. MobiStream, The Forge alumnus, is a proven Canadian software company building innovative solutions to improve the way business works. The funded project will allow MobiStream to ensure Unio is taking advantage of the 5G speeds to deliver an enriched experience.
The ENCQOR 5G Demonstration Program supports standalone small and medium-sized enterprise (SME) projects and SME collaborations with industry partners and/or public sector organizations, such as municipalities, healthcare facilities, public utilities for testing and validation activities using the ENCQOR 5G Innovation Platform as a Service (iPaaS) testbed in order to develop or advance new technologies, products, processes and services.
"We are excited to see the Ontario government support Ontario tech companies to ensure we remain competitive in the global technology space," said Nick Scozzaro, CEO and co-founder of MobiStream.
Learn more about Unio developed by MobiStream.