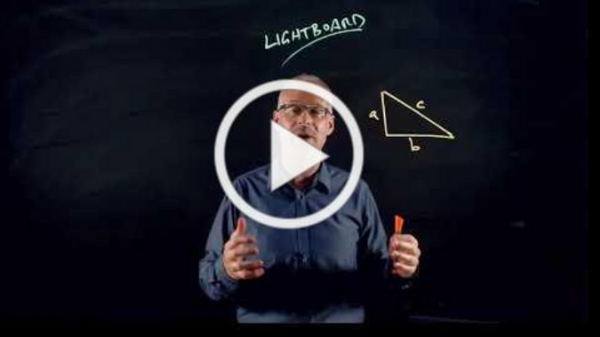 Lightboard Depot is a forward-thinking startup that devised "the Lightboard," a 54-inch transparent screen similar to a see-through whiteboard that is designed to fit into small spaces. The Hamilton-based startup was co-founded by Chris Cavalieri, Adrian Kitai and Mike Justason. The serial entrepreneurs, Cavalieri and Kitai, previously founded Advanced Video Technology Solutions Ltd. (AVT Solutions), an alumnus of The Forge providing Obsidian projection screens and custom display solutions for its clients including, most recently, a 100-megapixel seamless wall-size display. Lightboard Depot was featured by numerous publications in January showcasing the way its revolutionizing remote learning and improving the way people present and generate content online. "The Lightboard" has been quickly adopted by McMaster University, schools and businesses across Canada.
"LightBoard Depot got started up through a combination of luck, timing, and common vision," Cavalieri explained as he recalled how the startup was founded. The idea behind the startup began when Justason was searching for a better way to provide remote learning, several years before the COVID-19 pandemic. Then as schools and higher education institutions shifted into virtual learning, Justason's interest in changing the way teaching was being delivered continued to grow.
As a student not so long ago himself, Cavalieri thought how dissatisfied he would be with the existing, conventional online teaching tools being used. He also understood that the world was unprepared for the massive change to virtual learning that happened during the COVID-19 pandemic. In a short period of time, people around the world had to alter the way they connected and communicated in order to function on a daily basis.
Cavalieri then discussed the problem with Kitai, his AVT Technologies co-founder and Engineering professor at McMaster University. They both agreed that there was a need for a standardized solution that could be an effective and powerful method of communication, easy to acquire, simple to adopt for many types of users, and able to fit within educational budgets.
Kitai brought up the concept of using a lightboard to Cavalieri and introduced him to Justason. Even though lightboards have existed for numerous years prior to the pandemic, Lightboard Depot devised a way to make them more compact and affordable for users. The founders' combined experience, motivation for change, teaching experience, and entrepreneurial experience garnered at The Forge when they were developing AVT Technologies, gave them all the tools they needed to launch Lightboard Depot.
"Canadians [and people globally] were losing their education, their drive, ability to work and overall their connection to one another at an alarming rate, which was something the three of us could not stand to watch, explained Cavalieri. "This was our challenge, motivation, and problem to solve; this was the birth of the LightBoard for us."
According to Justason, students have really enjoyed his virtual lectures using the Lightboard, calling it the "next level" teaching technology.
View how The LIghtBoard can be used as a teaching tool:
Online Publications that have featured Lightboard Depot:
Read the article titled  "The writing is on the glass: Hamilton company's Lightboard called 'next level' learning tech" featuring Lightboard on January 6, 2021, was published by TheSpec and The Toronto Star.
Read about Lightboard Depot on their website: lightboarddepot.com
Read about The Forge alumnus AVT Solutions on their website: avtsolutions.ca