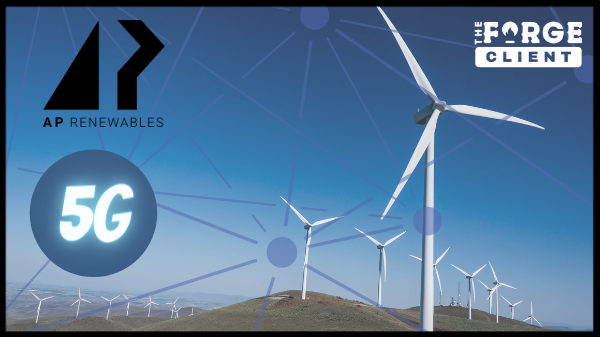 On January 25, AP Renewables announced that they received $50K from the ENCQOR  5G Demonstration Program. The program is delivered by OCE in partnership with Innovation ENCQOR on behalf of the Ontario Ministry of Economic Development, Job Creation and Trade and Innovation, Science and Economic Development Canada. The Forge client, AP Renewables, develops hardware and software solutions that enable renewable energy asset owners and operators to optimize asset performance and lower operations costs. The funded project will enable the secure transfer of wind turbine performance and fault signature data from wind farms to a secure server. High-speed, low latency network access will enable engineers and technicians to assess data in real-time and diagnosis electrical and mechanical system failures from remote locations, without requiring physical access to the wind farm.
The ENCQOR 5G Demonstration Program supports standalone small and medium-sized enterprise (SME) projects and SME collaborations with industry partners and/or public sector organizations such as municipalities, healthcare facilities, public utilities for testing and validation activities using the ENCQOR 5G Innovation Platform as a Service (iPaaS) testbed in order to develop or advance new technologies, products, processes and services.
"We are excited to have the opportunity to partner with OCE and ENCQOR to bring 5G technology into our SCADA Scope Ecosystem and leverage Ontario's growing 5G network," said Karleen Dudeck, managing partner at AP Renewables.
The OCE Partnership will support AP Renewables' goal of incorporating 5G technology into its SCADA Scope Ecosystem. The partnership will integrate domain expertise, provide statistical and neural network modeling, and IoT connectivity to generate business intelligence for faster and more accurate data-driven decision making. SCADA Scope seamlessly weaves together a variety of key performance indicators and operational factors, making it easier for owners to make scientifically and technically sound decisions. AP Renewables' products have been implemented by commercial wind farms across North and South America, including Brookfield Renewables, Enbridge, Algonquin Power, CMI, E.ON and EDF.
Learn more on AP Renewables' website.