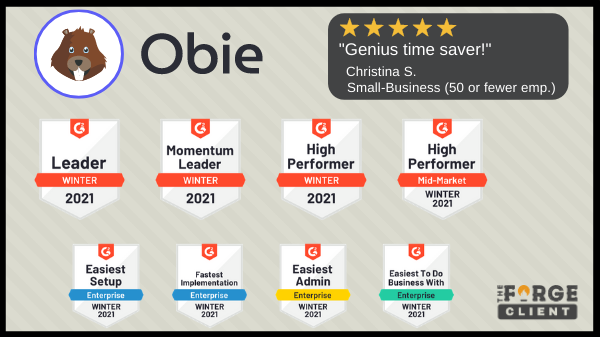 On January 6, G2 recognized Obie in the following categories for their Winter 2021 awards: Momentum Leader, Category Leader, Easiest Setup (Enterprise), Fastest Implementation (Enterprise), Easiest Admin (Enterprise), Easiest to do Business With (Enterprise), High Performer, and High Performer (Mid-Market segment). Obie is a knowledge base software and support accelerator on a mission to make knowledge universally accessible at work. The Forge Alumnus leverages AI to capture knowledge from silos and deliver answers where questions are asked.  G2 is one of the world's leading tech marketplaces and software review aggregators. G2 scores products and vendors based on reviews gathered from users and data aggregated from online sources and social networks.
In the past few months, Obie has made significant progress in the Enterprise user demographic, which has been driving their innovation with enterprise-grade product enhancements. A few of the recent enhancements were compatibility with Slack Enterprise Grid, frequently asked question knowledge base advancements, and a core search algorithm upgrade to version 5.0.
If you are a customer of Obie and would like to leave a review of their services visit Obie's page on the G2 website.
Visit Obie's website to read more about their innovative products.