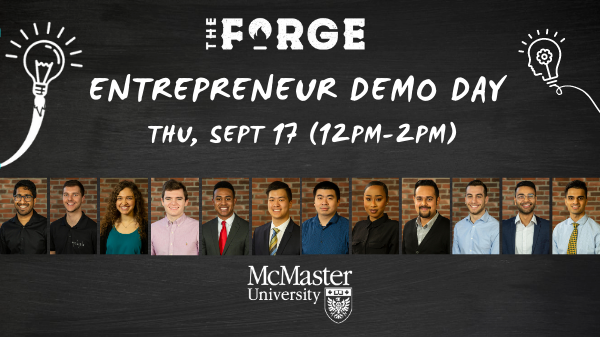 On September 17, The Forge is hosting our annual Entrepreneur Demo Day to showcase the top teams from our Summer Startup Academy that have launched or grown their startups over the summer at The Forge. These proud startups are finalists from our $100K pitch competition in March and have gained numerous tools to develop successful businesses through their work with our expert mentors and service professionals.
Get to know the startups that will be participating in Demo Day before meeting them at the showcase this week. Don't forget to RSVP on Eventbrite!
Date of event: September 17
Time: 12:00 – 2:00 PM
(Login details will be sent to you via email)
This is a FREE event and is open to the public.
Describe your startup in a few sentences. 
2unify: 2unify is the world's first hands-free robotic guitar tuning stand. By combining robotics with artificial intelligence, 2unify is able "to unify" art and science for musicians worldwide.
AIYogi: AiYogi is a web platform for instructors to deliver online yoga classes efficiently. Instructors are assisted with an AI virtual trainer that detects poses of students using simply webcam and provides instant feedback cues for correction. AiYogi will make online yoga coaching interactive, convenient and safe for yoga community.
CheckUp!: CheckUp! is a mobile app that facilitates access to physical University health services, and virtual health modules. It is designed to improve student health preventatively by the promotion of positive habits and directly by connect with university health services.
ImaginAble Solutions: ImaginAble Solutions creates assistive devices to improve the quality of life for people living with impaired motor function. Our international award-winning product is Guided HandsTM, an assistive device that enables people living with limited fine motor skills to write, paint and draw as well as type and scroll on a tablet, phone or a computer. Our mission is to enable people to live the life they had always imagined!
Lytec: Lytec is an ecommerce business that manufactures and distributes unique consumer products in the field of smart lighting. We are on a mission to revolutionize and personalize home decor through lighting.
Marrow: Marrow uses cutting-edge AI to diagnose blood cancer better.
NexWave: NexWave (formerly National Design League) is an organization which is revolutionizing student hiring. Helping companies save time and money, while ensuring students develop their personal portfolio through challenge-based hiring.
Pharmasonica: Pharmasonica has developed a novel drug delivery platform that utilizes ultrasound to trigger drug release resulting in improved treatment efficacy, reduced side-effects, and reduced visits to a specialist. Pharmasonica provides clinicians with enhanced control over a patient's treatment while providing patients with a significantly higher standard of care.
PULSE Lifesaving: PULSE Lifesaving is a full-service training provider of lifesaving, first-aid, and lifeguard training. Through the use of wearable technology and mixed reality, PULSE is developing remotely delivered & certifiable training programs for businesses & people.
Remember2Love: At Remember2Love, we empower seniors with assistive technologies. We're developing a smart-glasses-based digital assistant for older adults with symptoms of cognitive decline – the cornerstone of our patient-care monitoring platform to better support patients and their health-care providers across all stages of geriatric care.
How has McMaster University played a role in the launch of your startup?
2unify: McMaster has helped accelerate the development of 2unify through the Forge McMaster Incubator program and the Engineering Physics Department. The Forge McMaster has aided in 2unify's IP strategy, financial modelling, network outreach, marketing, and manufacturing methods. Furthermore, the Engineering Physics department provided technical consulting for the product and offered tools and resources for development.
AIYogi: Funding from McMaster and The Forge, as well as guidance from The Forge mentors, workshops and resources helped us to convert our entrepreneurial ideas to reality. Moreover, the skills learnt during graduate studies at McMaster University in the PNB department helped us in designing and developing our prototype.
CheckUp!: McMaster, and The Forge specifically has helped the founders of CheckUp! learn essential entrepreneurial and legal knowledge that they would not otherwise have learned in their regular STEM education. Both this information and personal support was easy to access and unintimidating, which in addition to the seed funding received from the Startup Competition made it feasible to devote serious time and effort into developing our concept into a full-fledged prototype.
ImaginAble Solutions: McMaster's Integrated Biomedical Engineering and Health Sciences program enabled Lianna to create the first prototype of Guided HandsTM as her first year school project. The program's focus on innovation and experiential learning provided Lianna an incredible background to invent an international award-winning product.
ImaginAble Solutions CEO & Founder, Lianna Genovese was a former undergraduate researcher at McMaster Manufacturing Research Institute where she transformed her first-year school project into Guided HandsTM. MMRI is our industry partner and continues to surround us with excellent advice on manufacturing and design from a team of engineers and machinists. As well, Lianna's former supervisor Steve Remilli is ImaginAble Solutions' Manufacturing Advisor.
The Forge, McMaster's Business Incubator, provided Lianna and her team at ImaginAble Solutions invaluable business resources and guidance through The Forge Startup School and Summer Startup Academy. Through workshops, mentors, and networking with other Forge Startups, we developed a strong background in business and entrepreneurship to successfully commercialize Guided HandsTM. The Forge offers an encouraging, positive, and helpful environment of mentors, advisors, entrepreneurs and business experts.  ImaginAble Solutions is beyond excited to continue our journey with The Forge in their 2020/2021 Business Incubator Cohort!
Lytec: We are grateful that McMaster has provided us with funding over the summer to invest in Lytec and work full time at The Forge. This allowed us to expand our brand and operations to the point where we have grown our revenue to significant figures since Lytec was founded.
Marrow: I met my cofounders at Mac, and the courses I took helped a lot. Founding the McMaster Artificial Intelligence Society also gave me the skills and connections I needed to succeed.
NexWave: McMaster is where the idea of NexWave was born which was initially just a club! Without the support that the McMaster community has given us, we would not have been able to take this idea and truly develop it into a company which is looking to shake the entire student hiring space.
Pharmasonica: McMaster has provided an environment that allows academics to step outside of their comfort zone and pursue commercialization.
PULSE Lifesaving: McMaster has played a vital role in the development of PULSE Lifesaving by offering support and validation, in addition to expert guidance in all the endeavors a new business partakes in.
Remember2Love: To have been personally mentored by Dr. deBruin, Professor and co-director of Integrated Biomedical Engineering and Health Sciences at McMaster University, for a full-year, was remarkable. Broadly, McMaster Engineering Professors are brilliant, incredibly friendly and cultivate a stimulating environment of excellence and innovation – we are especially grateful to Dr. Doyle, Dr. Filipe and Dr. Leung for their counsel and support.
What does innovation mean to you?
2unify: Innovation is where creativity meets passion but is ultimately fueled by curiosity. Our team at 2unify is passionate about taking it one step further and creating a novel product that can create excitement and offer a glimpse into the future. Altogether, innovation is always needed because the world is in a state of constant change.
AIYogi: Innovation is a practical implementation of an idea or invention to make a meaningful impact on the society.
CheckUp!: Innovation to me refers to the process of taking a novel productivity-increasing idea and implementing it in the real world. Both steps to this process are essential, as the best idea in the world will fail to yield real-world benefits without widespread and successful uptake, and limitless resources could be wasted pursuing an idea which is antiquated or without merit.
ImaginAble Solutions: To me, innovation is the product of an invention and commercialization. Since multiplying 0 by anything always equals 0, to have innovation, both must be present since one is not valuable in isolation. To create an invention once needs to find inspiration to solve a problem and use creativity and imagination to invent a unique solution. On the other hand, commercialization, is recognizing your invention's opportunity and creating a financial gain through marketing, sales, branding, etc.
Lytec: Innovation to us is not only about creating something new and unique but also to modernize and add more value to past creations while being able to commercialize it effectively.
Marrow: Innovation means never being satisfied with what you have and always striving to improve systems radically.
NexWave: To us innovation means bringing a positive change within our society, bringing a new point of view which many have not thought of. Without ambitious entrepreneurs who want to keep innovating for a brighter tomorrow, we would not have such amazing technological advances which we are seeing in our lifetimes.
Pharmasonica: Innovation is taking something outside of traditional context and looking at it as a blank canvas.
PULSE Lifesaving: Innovation to me means continuously iterating on brilliance for the greater good.
Remember2Love: To us, innovation means the highest quality geriatric care accessible to all – at home, in long-term care, at the hospital and everywhere in between. Innovation is empowering seniors to live safer, healthier lives and more confidently in their independence. Broadly, innovation is a portal to a brighter future. It's the best shot we've got to bring about positive change.
What's next for your startup?
2unify: 2unify has launched into a manufacturing partnership with CAMDT – advanced prototyping at Sheridan College, confirmed pilots with recording studios and music stores in Toronto, completed their pitch on Dragon's Den, and are now scaling up production for commercialization in Q1 2021. 2unify has also secured a marketing campaign with Beverly Hills Digital Music (1M+ subscribers) and will be meeting with the Rolling Stones to present their product.
AIYogi: Currently we are developing our prototype. Next step will be to validate our innovative solution by MVP trials. We are also looking for Startup Grants, Angel Investments and Mentorship.
CheckUp: CheckUp! is on the verge of connecting our first prototype to a fully functional backend server, after which we will begin beta testing our product with interested post-secondary students, and reaching out to interested institution who would be interested to exploring how CheckUp! could assist the function of their University and student body.
ImaginAble Solutions: Within the next few weeks, ImaginAble Solutions will be collaborating with Vancouver Coastal Health- GF Strong Clinic, the largest rehab center in BC. We will be running our first committed pilot where they will be introducing Guided HandsTM to their patients. Within the next few months, we would like to focus on creating awareness for Guided HandsTM, setting up more pilots in healthcare facilities and generate pre-orders!
As well, on September 21st, ImaginAble Solutions will be pitching to the LiONS in the upcoming LiONS LAIR Pitch Competition. Cheer us on as we compete in a virtual bracket-style tournament airing on TV between Sept 21-24th from 4-5pm. The competition is audience vote so we would be incredibly grateful for your support and vote! Register for voting access at lionslair.ca/pitchmadness!
Overall, this is just the beginning of ImaginAble Solutions' explosive journey, with the support from McMaster and my team, Guided Hands will change the lives of many people.
Lytec: The next steps for Lytec would be to expand our team in order to solidify and grow our brand through various means of marketing and the creation of new products. Overall, we plan on continuing to work on ways we can scale our business.
Marrow: Deployment to hospitals around the world!
NexWave: After graduating from The Forge, we are officially planning to roll out our online platform in the early parts of October! We will now be seeking funding for our organization, while really tackling the sales end of our business.
Pharmasonica: Pharmasonica plans to continue to develop our drug delivery platform as well as pursue new partnerships.
PULSE Lifesaving: The next steps for PULSE are continuing development on our remote training programs and catering to a rapidly changing professional world.
Remember2Love: In light of the COVID-19 pandemic, gaps in geriatric care have been sorely exposed.
With this in mind, our utmost priority is getting our product in the hands of seniors in nursing homes and in home-care – to bridge the gaps and help geriatric patients receive the highest quality care and support during this time. Our long-term goal: to level-up the patient experience at every stage of geriatric care!
Meet the innovators behind the startup!
2unify Team Overview:
Michael Jobity (Co-Founder) – Engineering Physics & Management (Spring 2020)
Mitchell Wong (Co-Founder) – Engineering Physics & Management (Spring 2020)
Ryan Ng (Co-Founder) – Engineering Physics (Spring 2020)
Michael Salamaszek (Co-Founder) – Engineering Physics & Management (Spring 2020)
McKellar Wismer (Co-Founder) – Commerce (Winter 2019)
Curtis Graham (Co-Founder) – Engineering Physics (Spring 2020)
AIYogi Team Overview:
Debanjan Borthakur (Co-Founder) – PNB (Fall 2020)
Rohan Barooah (Co-Founder) – Mechanical Engineering (Spring 2019)
Sumeru Nayak (Co-Founder) – University of Rhode Island
CheckUp! Team Overview:
Will Douglas (Co-Founder) – Health Sciences (Spring 2021)
Stefan Janovjak (Co-Founder) – Computer Science, iBioMed (Spring 2021)
Akil Hamilton (Co-Founder) – Software Engineering (Spring 2021)
ImaginAble Solutions Team Overview:
Lianna Genovese (Founder) – iBioMed Biomedical & Mechanical Engineering (Spring 2022)
Cameron Macdonald (Research Assistant) – Biomedical and Chemical Engineering (Spring 2023)
Lytec Team Overview:
Junior Thiensirisak (Co-Founder) – Earth and Environmental Science
Allen Chen (Co-Founder) – Queens University
Marrow Team Overview:
Andrew Leber (Founder) – Health Sciences
NexWave Team Overview:
Shreyas Gangwani (Co-Founder) – Mechanical Engineering and Management (Spring 2020)
Arvi Mulliqi (Co-Founder) – Economics (Spring 2019)
Nitesh Mistry (Co-Founder) – Mechanical Engineering and Management (Spring 2019)
Ishan Acharya (Co-Founder) – Mechanical Engineering (Spring 2019)
Abhishek Puwar (Co-Founder) – Chemical Engineering and Management (Spring 2019)
Pharmasonica Team Overview:
Andrew (Doren) Singh (Co-Founder) – Chemical Engineering (Summer 2022)
Jonathan Dorogin (Co-Founder) – Masters, Bioengineering and Biomedical Engineering
Jonathan Que (Co-Founder) – Chemical Enginering (Spring 2024)
Todd Hoare
PULSE Lifesaving Team Overview:
Dawson Lucier (Co-Founder) – Kinesiology (Spring 2018)
Danny Visekruna (Co-Founder) – Computer Science (Spring 2019)
Nic Tristani – Computers Science (Spring 2019)
Remember2Love Team Overview:
Karan Sabharwal (Co-Founder) – Computer Engineering (Spring 2020)
George Padegis (Co-Founder) – Electrical and Biomedical Engineering (Spring 2020)
David Gomez (Co-Founder) – Computer Engineering and Management (Spring 2021)
Kevin Riady – Electrical and Biomedical Engineering (Spring 2020)
Matthew Dorosz – Electrical Engineering and Management (Spring 2020)