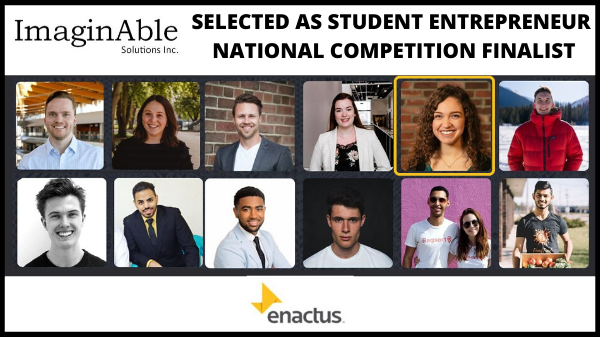 ImaginAble Solutions, The Forge client, was selected as one of twelve finalists in the Enactus 2020 Student Entrepreneur National Competition, presented by HSBC Bank Canada. The 12 finalists pitch to a panel of industry leading judges at the Enactus Canada National Exposition for a chance to win $10K. The winners will be announced on June 18. "ImaginAble Solutions is beyond honoured and excited to be a finalist in the 2020 Enactus Student Entrepreneur National Competition!" said Lianna Genovese, Founder and CEO of Imaginable Solutions, who represented McMaster University in the competition. "I look forward to this amazing opportunity to represent ImaginAble Solutions and McMaster University to showcase our assistive device Guided Hands™!"
ImaginAble Solutions is a biomedical engineering company specialized in creating assistive devices for people living with accessibility issues. Their first product, Guided Hands, is an assistive device designed to help people experiencing limited hand mobility in writing, painting, drawing and using a tablet/computer. Guided Hands improves the user's mobility and quality of life.
Since 1997, the Student Entrepreneur National Competition has celebrated the commitment, determination and achievements of full-time students enrolled in a Canadian university or college who are simultaneously operating their own businesses. Participating student entrepreneurs present their businesses to panels of Canada's business leaders in regional and national competitions, in order to be named Student Entrepreneur National Champion.