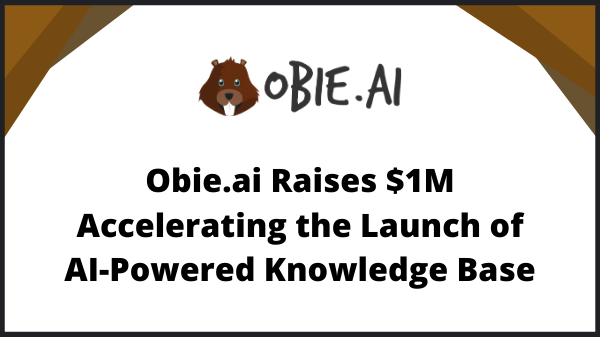 Congratulations to Obie.ai, The Forge alumnus, that recently announced raising $1 Million CAD. Obie.ai used part of the funding to accelerate the launch of Obie Access, a new AI-powered knowledge base designed specifically for startups. The funding round, which closed in February 2020, was led by High Park Angels in Toronto, and included Dash40, Enterprise Fund, Sherpa Capital, Conconi Growth Partners, and others. Obie.ai is an innovative, Hamilton based startup, who expanded their offices to San Jose, California earlier this year.
"We are excited to make Obie Access available to the world, especially with the recent dramatic shift to remote working arrangements for companies of all shapes and sizes," said Chris Buttenham, co-founder & CEO of Obie.ai. "We're also excited that our recent funding enables us to continue growing our team in Hamilton and abroad. We couldn't be more grateful for the support we have received from The Forge, Innovation Factory and our advisors who have helped us fight the good fight all these years." Read more.
In April, Obie.ai launched Obie Access, a product aimed at giving startups an affordable way to build an internal knowledge base. Obie Access leverages AI to pull information out of silos and answer queries raised from employees. Unlike larger companies, startups usually have to create their knowledge base or have one that resembles a sea of disorganized folders in a Google Drive, Obie Access offers a Slack-first knowledge base with their redesigned knowledge editor.
To learn more about Obie.ai visit their website: https://obie.ai